Why Hilton Hotels & Resorts choose RFID wristbands as an information transmission tool in the hotel?
The best hotels in the world are using RFID wristbands to improve their overall guest experience. While many hotels use an RFID bracelet as both a room key and for cashless purchases across the hotel or resort property. But many other resorts and high privacy hotels issue an RFID wristband to allow for access to private beaches and changing rooms, for controlled access to VIP areas and club floors and also for making purchases at the pool bar, the lounge, and even the gift shops.
It makes sense for the hotel to choose the RFID wristbands: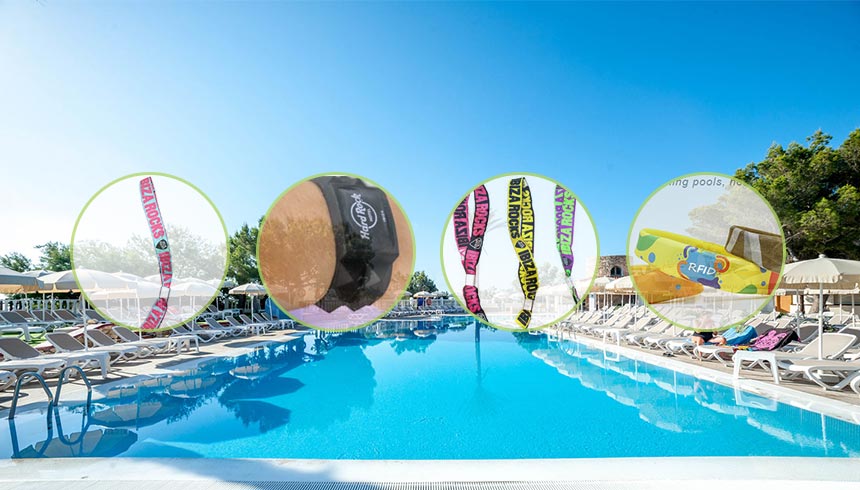 Waterproof
The RFID chip is completely sealed in the silicone wristband, no matter if you are swimming or diving, it will not affect the chip of RFID wristband in any way. And the outside material of RFID wristband for hotels is high-quality silicone, it is totally waterproof.
RFID wristbands can be worn while swimming and can withstand extended exposure to liquids perfect.
Ease of use
The RFID wristband can be worn on your hand like an ornament, you don't have to put it in your bag or pocket like a card. You don't need to take it off and don't worry about forgetting where it is. Many elderly customers and people with visual impairment can use RFID locks without worrying about fumbling for keys or turning potentially stiff locks with weaker or injured hands.
Multi-use
The RFID wristband can be programmed and reprogrammed as many times as needed. This is ideal if your security requirements change frequently, or if you hire new employees who need to enter different areas of the office.
Shenzhen CXJ RFID Silicone is a professional factory about producing the RFID wristbands. We have 15 years of RFID production experience, and the silicone raw materials we have used for a long time have passed various certifications. We can perfectly combine RFID and wristbands.
Get free advice on customizing RFID bracelets now!
Website: www.rfidsilicone.com
Contact: Edith-CXJ
Skype: live:cxjrfid
Email: info@rfidsilicone.com